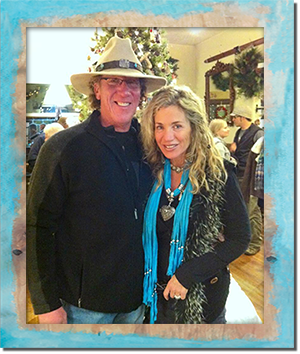 Shadey Deals, Inc. Window Treatment Specialists was founded in 1991 by Jan Rosenthal Townsend & Jay W. Townsend. Because of our personalized service, attention to detail and the desire to satisfy our customers completely (before, during and after the sale) we have established a sterling reputation amongst thousands of homeowners, realtors, property management companies, homebuilders and lodges over the years. In 1995, we opened a most unusual, eclectic showroom, Alpine Ambiance, incorporating special decorative touches and all aspects of our services –custom window treatments, furniture, home accessories, gift items, fine art and interior decorating, including complete remodel services. We personally hand pick one-of-a-kind items from craftsmen around the world and continuously strive to maintain a special "ambiance" for people to enjoy. In recent years, we've added more specialty gift items, garden accents and a beautiful unique assortment of ladies apparel and jewelry.
We at Shadey Deals/Alpine Ambiance, maintain the philosophy of "personalized, friendly, exceptional customer service". Recognizing that the interior of one's home (even if it is just a simple window treatment,) is the most intimate expression of one's personality & lifestyle, we enjoy the rewarding challenge of finding just the right thing for all of our clients. Our forte is making design and color recommendations based on each client's individual needs with free in-home consultations and competitive pricing. Our boutique at Riverwalk in Edwards is a literal "feast for the eyes" Come see why so many people over the years, say it is their favorite store in the valley!
Our #1 goal is to fully satisfy each and every one of our clients! No job is too small!
Shadey Deals/Alpine Ambiance welcomes your business !!